Saree blouse latest pattern: All you need to know
---
Being India, it is common knowledge that everyone loves the Saree! One of the most respected articles of clothing worn in India, the Saree has the power to turn heads. It has the power to transform you from an ordinary girl to an extraordinary woman. So, what's the secret to a good Saree? Well, a Saree is only as good as its blouse, and that's the first part you need to get right. Here's a little something to help you out. Read on to take a look at some of the best Saree blouse latest pattern and Churidar neck designs.
Saree Blouses
The Saree highlights your good features, helping you turn heads when you enter a party or wedding. However, over the years, Saree blouses have evolved to become an entity of their own. Nowadays, top designers pay special attention to Saree blouses because they have the power to make or break the look! A great blouse can turn a simple saree into a party-ready in no time. Therefore, today's fashion market has numerous creative, classy and stylish Saree blouses. Here's the look at some of the best Saree blouse latest pattern designs for you to go through!
Also read: The History of Saree: A Brief Look At
Saree Blouse latest pattern
Saree Blouse Front Designs
Deep V-Neck
Great for parties and any event that requires some glamour, this design is sure to turn a few heads. The length and cut of the V may be adjusted as per your requirements. Such necks are immensely popular in the Western world, with celebrities opting for such plunges quite often. Remember to choose the depth of the cut based on your bust size. Furthermore, V neck blouses suit all women whether they are petite or full in the figure. Women with smaller busts should stick to a high V neckline to avoid spillage. Whereas, women with broad shoulders should go for deeper necklines.
High Neck Blouse
One of the most sophisticated and sought after Saree blouses out there, the High Neck blouse is a favorite among Bollywood divas. These stylish blouses suit any and every occasion, making them one of the most picked Saree blouse patterns. These work with every body shape, no matter the length of your neck, framing your face beautifully. If you want to go vintage, you can try the Shawl Collar Saree Blouse, which has brocades on either side. Another more preppy variation is the Peplum blouse and the Mandarin collar blouse.
Cold-Shoulder Blouses
Another insanely popular design trend that is doing well with regards to Saree blouses is the cold-shoulder design. These blouses help you accent your shoulders and show off your hands gracefully. If you want something more conservative you can opt for the Off-shoulder blouses which also add a lot of beauty and style.
Also read: Saree styles to wear: 3 styles
Strap Saree Blouse
This trend works extremely well for women with smaller shoulders and a bony framework. Saree blouses held together by straps have become quite a fashion statement in recent years, thanks to their chic look. The straps may be of any material, and even in colors that contrast your blouse. Furthermore, you can add various embellishments on your strap to make the design stand out even more.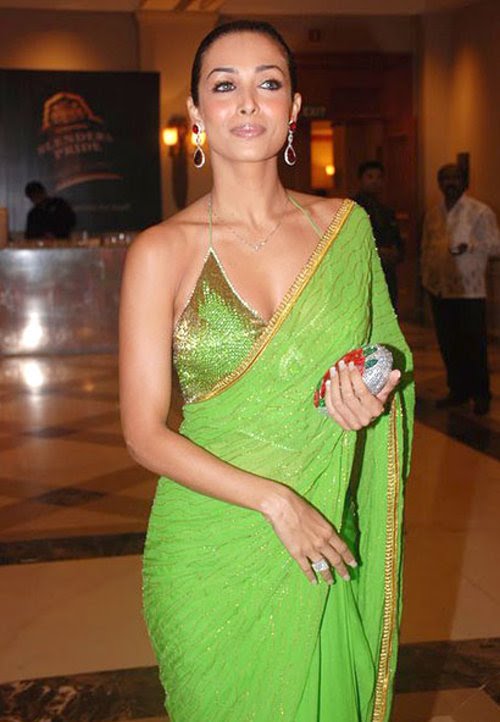 Boat Neck
Boat Neck Saree blouses are the perfect blend of style and comfort, being extremely classy and casual at the same time. Women can opt for long-sleeved boat-neck blouses for Net sarees as they go very well together. Another way to spice up this design is to add lacework on the blouse, or maybe even brocade! Hence, that concludes our suggestion to the Saree blouse latest pattern.
Saree blouse back design
Sheer Back
This is one of the most popular back design trends for Saree blouses, being a perfect choice for brides. The design is super trendy, and aesthetic at the same time. Women can go for fabrics such as net, lace or maybe even transparent Georgette. While the front part of the blouse has a lining, the back does not, giving it a sheer finish. The sheer effect maybe till the middle of the back, or can even extend all the way down the entire back. Make sure you choose the right fabric, because anything too thin, may not hold well without lining material. Hence, one of our suggestions on Saree blouse back design.
Slit Back Blouses
Slit Back Saree blouses have been in trend for what seems forever, and they keep coming back into fashion. A true evergreen when it comes to Saree blouses, this design is a trendy fashion statement that is very Bohemian in style. Whether you are wearing a handloom, cotton or silk saree, this blouse will not let you down. The placement and length of the slits determine the styling of this design and must be chosen according to the saree type and occasion. A small slit goes well with cotton sarees, and office wears sarees, whereas deep slits work well for party sarees made of Georgette and silk. The design works exceptionally well on patterned cotton and silk sarees as well.
Also read: Traditional attire wear of India for women
Strings and Straps Blouses
Strings, straps and attachments help make classic shapes such as the U, V and Sweetheart neck stand out. Furthermore, more conservative cuts like the Princess-cut becomes deeper using strings adorned with colorful beads and embellishments. This is also one of the most versatile Saree blouses, with several variations possible. The design works well on women of all shapes and sizes, and always remember to walk upright to enhance the beauty of this trend.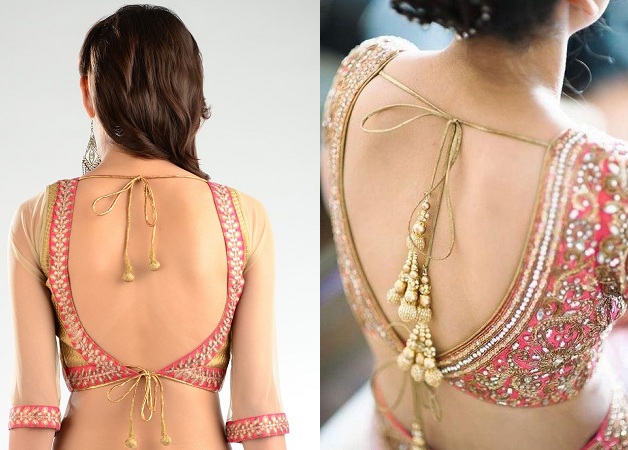 Window Style
The window-style is a cut-out design, used in blouses with a close-cut, boat or high neck-line. Furthermore, certain women style a Matka-necklines on the front, with a window design on the back to spruce up their look. The design is incredibly sensuous while also being conservative and not overly revealing. This design is also extremely versatile, with the windows being anywhere from round to V in shape! Most of these blouses make use of a hook and eye closure system, and many women add padding in the front, to help the blouse stand straight.
Halter Neck
The most youthful design on this page, the Halter neck is a western-inspired design that looks great on youngsters. Certainly more daring than the rest of the designs on this list, the Halter-neck goes very well with party sarees and chiffon sarees. However, this isn't the easiest blouse shape to carry off, as it reveals large parts of the shoulder and upper back. Nonetheless, if you have a toned upper body, then this is the design to go for, as it lets you flaunt your arms without making it look crass. You can opt for a lace or satin fabric blouse to add a more sensuous appeal to the design. That concludes our suggestion on Saree blouse back design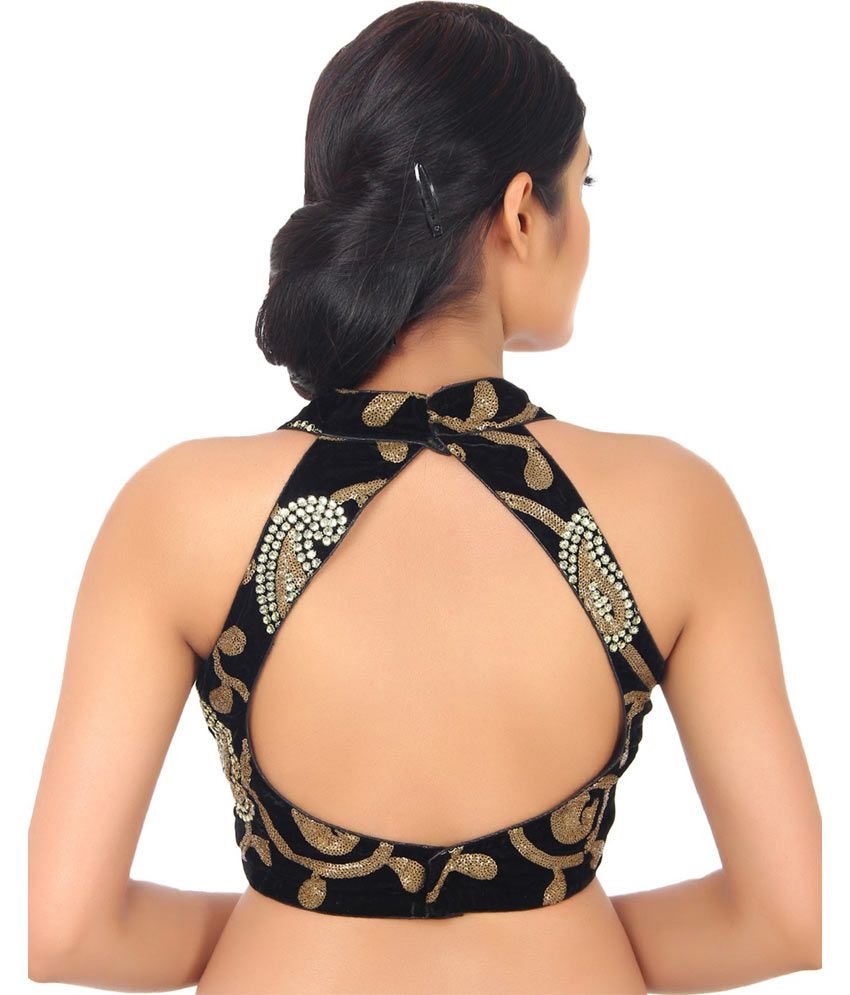 How to Choose Perfect Saree Blouses
A gorgeous saree is a necessary item in every Indian woman's wardrobe and though they are old articles of clothing, they are timeless classics! Everything from a grand wedding to a fancy party requires you to adorn a stylish saree. Now, no saree is complete without the perfect blouse, and hence, choosing the right blouse is of utmost importance. Here's how to go about choosing saree blouses that complement your body type, making you look flawless!
If you spent a lot of time in the gym the past year toning your arms to perfection, opt for strappy or sleeveless blouses to really show them off.
In case you have very slim hands, you can opt for the Mega-sleeve blouse to add some volume.
However, women with skinny arms should avoid full-length blouses made of light fabric, as it makes them look even thinner.
If you want to flaunt your well-defined abs, go for a short blouse and a low-draped saree combo.
On the other hand, if you are conscious about your tummy fat, opt for a Peplum blouse which balloons out at the waist.
Women with long necks can further accentuate their slender necks by opting for Boat necks, close neck blouses or even T-shirt neckline blouses.
In case you have a petite frame, go for a deep V-neck blouse, while women with an athletic frame, should opt for a wide neckline to showcase their broad shoulders.
Choose a fabric such as net or sheer for the back, and go for heavier ones like embroidered fabrics or velvet for the bodice.
If your best feature is your shoulder, dare to go for the Halter neck, as it really accentuates your shoulders, making you the ultimate Diva!
Also read: Types of fashion wears
---