Saree draping styles: Get it perfect
---
You can buy the perfect Saree for yourself, but it will amount to nothing without the perfect Saree draping style! A single Saree can take on different styles and definitions with different draping. Across India, we see a multitude of different draping styles. All these styles make every single Saree unique and special in its own right. So, which draping style do you choose for what occasion? If you are having trouble figuring out the perfect Saree draping style, then stay calm, because we are here to help. Here's a look at some creative draping styles which will help you create the best look for yourself.
Different Saree Draping Styles From Across India
Athpourey Shari- West Bengal
Easily regarded as one of the most recognisable draping styles in India, the Bengali makes use of a box pleat in front. The pallu comes forward from the back on either side, giving this look a very dignified feel. from back to the front on both sides. Traditionally, women used to attach a bunch of keys to the pallu over their right shoulder. This symbolised how the woman handled her household and is a matter of pride for most Bengali women.
Also read: Best Saree Quotes for Instagram and poses
Nauvari – Maharashtra
The Marathi saree or the Nauvari is the traditional nine-yard Saree that India was famous for. Due to the excessive length of the cloth, this style looks like a dhoti over the legs, while the upper portion resembles a normal Saree. Lavani folk dancers rely on this draping style as it allows for unrestricted movement of the legs.
Mekhela chador- Assam
This style comprises of two pieces-a bottom and a top. The bottom serves like a front-pleated sarong, whereas the upper garments tuck into the waist. The upper garment forms a triangle in the front, while the other end of it serves as a shawl.
Nivi and Kappulu-Andhra Pradesh
The Nivi drape closely resembles the modern-day Saree in many ways. Back in the day, this was how Telugu aristocracy wore their Saree. However, this version isn't very work-friendly as it very sensuously accentuates a woman's curves. Most modern draping styles are in some way related to this kind of drape.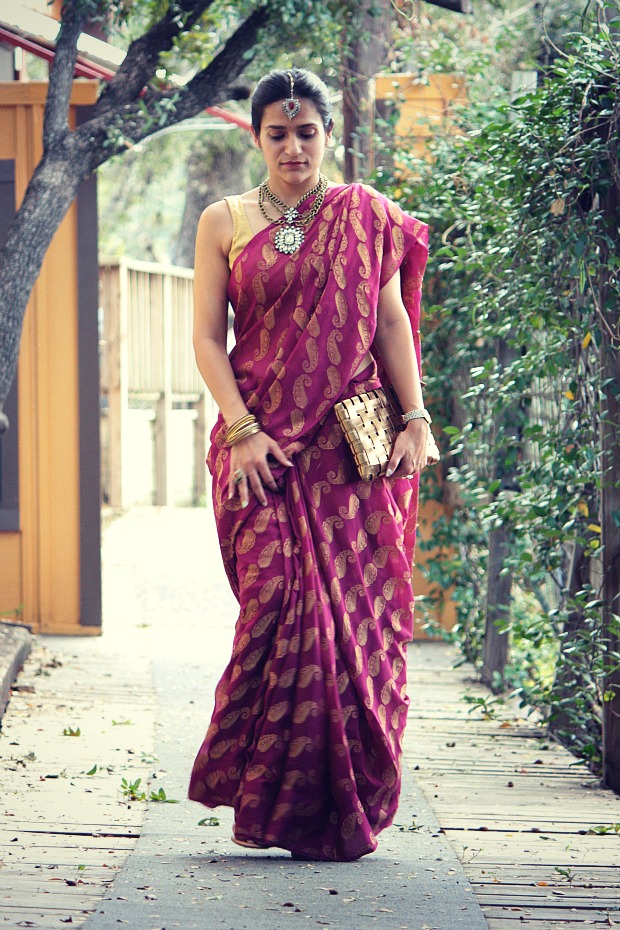 The Kappulu drape is a caste specific draping style prevalent in Andhra Pradesh. The uniqueness of this style is that it goes from left to right, unlike the traditional right to left approach. This style works best with long Sarees as it accentuates a woman's curves, thanks to the narrow pleats in the back.
Also read: All About Perfect Saree Blouses
Seedha Pallu- Odisha/Gujarat/Uttar Pradesh
The common woman's Saree draping style, the seedha pallu allows for easy movement and ease of wear. It resembles a lehenga choli wherein the pallu acts as the dupatta. This works best for heavy sarees as it takes the load of the shoulder. Furthermore, as the pallu falls in front, it is a great way to show off heavily embellished pallus at weddings!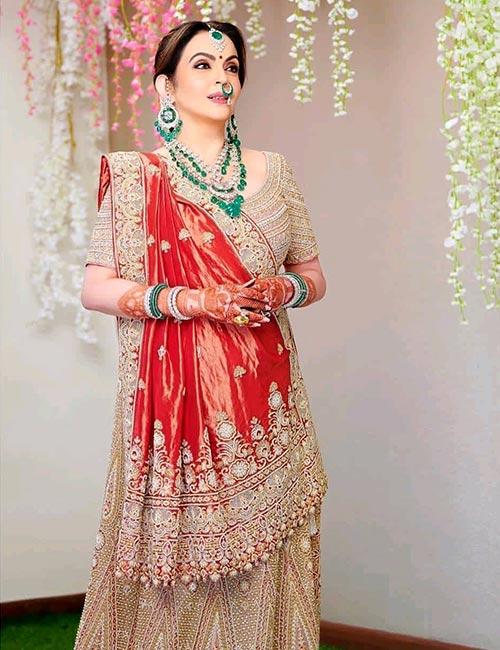 Pinkosu and Madisaru- Tamil Nadu
This elegant style is favoured by women near Madurai and Chettinad. This style of draping is great for hot and humid weather conditions as it eliminates the need for a petticoat. The name Pinkosu, literally translates to "Back-plated". Also, in this style, the saree goes around the woman 1.5 times, allowing for greater coverage. The pleats fall outward, rather than inward, unlike the traditional Nivi style. However, this means that the underside of the Saree is as important as the exterior.
The Madisaru drape is an integral part of Iyer and Iyengar culture and is usually worn by married women. Considered a tough draping style, this drape now finds use during special occasions and festivities. As it follows the Ardhanareeshwara style, the lower part resembles a dhoti, while the upper looks like a saree.
Parsi drape
The traditional Parsi drape finds use during traditional festivals, and is an elegant style which works well with lightweight sarees. Parse women start wearing Sarees after their Saree Perawan ceremony, which serves as a kind of rite of passage. The pallu comes from behind the blouse and hangs over the left shoulder in loose pleats. The folds then come over the right shoulder, helping to display the works on the pallu in front.
Also read: The History of Saree: A Brief Look At
Modern Saree Draping Styles
Floaty Casual Drape
The easiest drape to carry off, this style works well with silk sarees, net sarees and basically, any kind of light-weight saree. The saree is casually draped using a pin or embellished brooch holding the pallu in place. This look is great for weddings, as it gives you the space to move about, while also looking glamorous. When draping sarees made of chiffon or Georgette, women should style this look with a deep V neck or open back blouse.
Pant/Dhoti Style
The perfect androgynous style drape, this allows for maximum comfort and ease of movement. This trendy saree drape style is easy to pull off and extremely stylish, making it perfect for receptions and parties where you want to let loose. The dhoti style is similar to the pant style but tends to have a more traditional look, whereas the latter is more modern.
Skirt/Lehenga Saree Drape
When people pair a Saree with a dhoti, why not try it out with a skirt? This effortlessly chic style has been gaining popularity in recent years, as it in interesting and unique. This style is perfect for bridal sarees as it allows you to show off the embellishments on your Saree with ease. Women can also pair this look with a belt or traditional waist chain to spice things up. By arranging single pleats across the waistline, you can also transform your skirt Saree into a fancy lehenga Saree!
Tips on hiring a saree Draping expert
If you are a first-timer or you want a grand event that's upcoming and you want a professional to help you out, then you need to find the best saree draping expert that is ou there in the market. You will most likely hire this person for your big day so we want you to be completely happy with the service you get. hence, here are our tips on hiring the best saree draping expert.
Instagram Bio
Small to big businesses these days are investing their time and money on Social media pages. An expert with a professional-looking Instagram profile is recommended as it directly relates to the quality one can expect from them. Quality and effort put in their portfolio will directly reflect in their outcome. Also, this can help you track the number of projects they have worked on and see client testimony directly.
variety in experience
We suggest your professional must know everything to know sarees and saree draping styles. Working with an expert who has pan India experience can help you provide a hybrid look and will be good at improvising.
Flexibility offered
The expert must offer flexibility in their service. Stay away from rigid experts. There are hired to satisfy your requirement and you should never fit into their agenda. It will never end well. Hence, if you are looking for a saree draping expert research well and have a detailed conversation beforehand with the professional.
---